Here are the Key Take-aways from the recent Wisdrop Cosmetic Stores study, conducted online by Braincandy, in Oct. 2021, with a nat rep sample of 800 people (16-75 y.o.) in Greece.
5 Key Take-aways
ToM in Cosmetics stores is undoubtably a one brand show; Hondos Center. (See Chart)

For Men, Notos Galleries are competing traditional cosmetics stores is certain occasions; "Shopping with my friends" and "Skin products".

Gen Z appears emotionally detached from the majority of cosmetics stores. Increased intimacy for those who seek Excitement.

When it comes to drivers, women & men choose differently: Women prioritise easiness, while men prices. Specialisation in cosmetics for women, while personnel for men (2nd driver).

Greeks, when it comes to cosmetics shopping, seem to share the same motivations with groceries shopping. However, cosmetics shopping is a matter of status too (even more within men).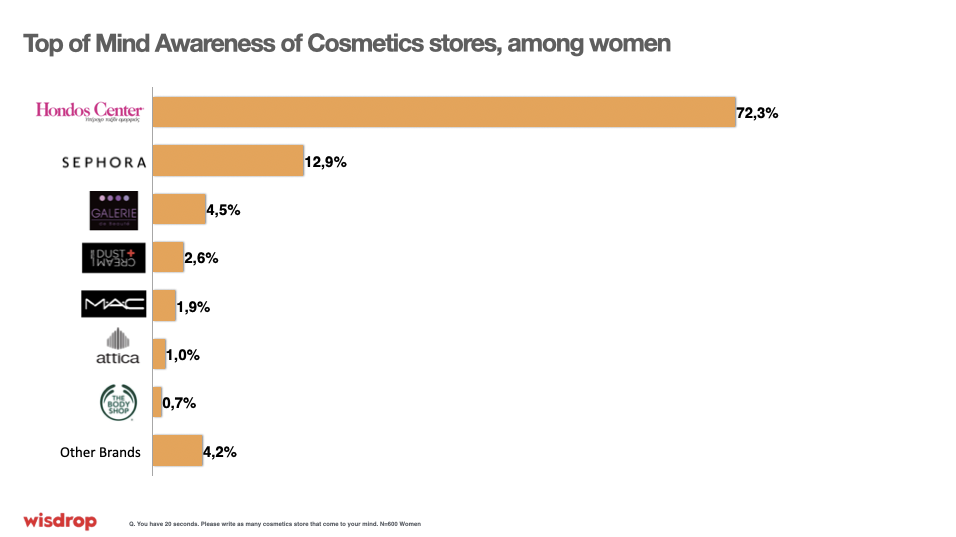 A few words about Wisdrop
Wisdrop is a subscription-based service that offers valuable consumer knowledge in an inspiring format that trains your business instinct and helps you make better decisions every day. For more information, visit www.wisdrop.com.