Based on the latest Sustainability study of Wisdrop, 1 out of 4 Poles expresses concern for the environment and almost the same number is actively involved in its protection (this is not the case in other European countries where concern is far greater than actual involvement). The most worrying problem is air and water pollution.
Convenience seems to be the most important motivator (e.g. regarding recycling), proving once again that our behavior influences our attitudes, not the other way around. In other words, we do not recycle because we think we should do something for the environment, but if, for whatever reason, we make a habit of recycling, we will adapt our attitude on environmental protection, so that it suits our behavior. Thus, the key to strengthening this trend is not additional incentives (e.g. cashback), but added convenience (e.g. more bins for recycling).
The study identified significant differences between different demographic groups (e.g. women appear to be more concerned) and 4 separate profiles based on the level of involvement:
Doers (18.5%): take the necessary actions to protect the environment (voluntary actions such as diet change, recycling, etc.).
Considerers (9.5%): They say they care about the environment, but they haven't changed anything in their behavior.
Thinkers (46%): They don't really care about the environment.
Indifferent (26%): They don't care about environmental issues at all and talk about it openly.
The same study assessed dozens of brands and companies in a variety of industries for their contribution to environmental protection, with the top 20 below. The diagram shows their overall ranking, the rating from the entire research sample, the industry to which it belongs, as well as its ranking according to the rating given to it by the Activists, i.e. the most committed group.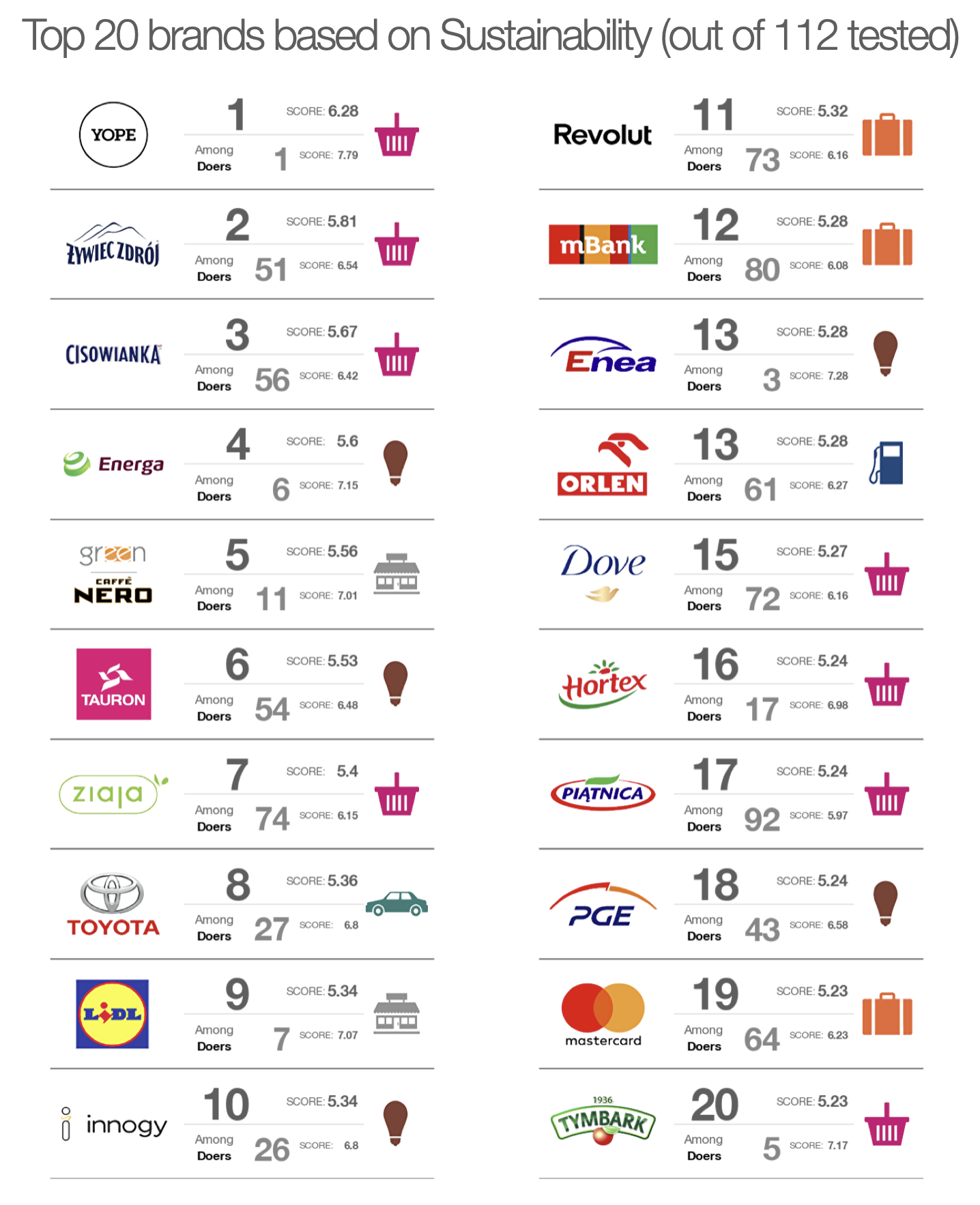 The study on sustainability was conducted online on a representative sample of over 800 people throughout Poland at the end of April and early May2021. Full report is only available to Wisdrop subscribers. Wisdrop is a subscription service offering the consumer a holistic understanding of different aspects of his behavior through modern quantitative research. For more information, visit www.wisdrop.com.