Brands have been using brand ambassadors and influencers to promote their products for ages. Their main goal was to build credibility, trust and positive emotions. By association to a famous person, a brand gains some characteristics of the celebrity, and makes people feel good about it, unconsciously. So, marketers used to care a lot about the "image" of the celebrity and whether it carried any risks for the image of their brand.
Today, thanks to social media, celebrities have even their own channels to reach an audience. Digital transformation has also shifted the focus to efficiency and short term results, vs effectiveness and long term results. As a result, marketing pays a lot of attention on how many followers s/he might have, often ignoring the impression that their association could create to the rest of the people, who don't follow the specific celebrity on Instagram.
Realising how hard it is for our clients/subscribers to get data on whether a celebrity evokes positive feelings and relevant associations (vs how easy it is to count the number of their Instagram followers), we designed an exclusive Wisdrop Original study to help them out. Brand Ambassadors Season 1 was conducted this May in Greece, with a nat rep sample of 1,200 people 18+ that assessed online, 137 celebrities from 7 different categories (TV presenters, singers, athletes, chefs, actors, journalists and bloggers).
It turns out that the best category to associate your brand with (as long as it is in line with your strategy of course) is Athletes. They may not be the most famous (which makes it a smart decision in terms of spending), but they are the ones who evoke the most positive feelings. Associating your brand with a famous athlete caries minimum risk. A good alternative (depending on your strategy) could be Chefs. On the other hand, you should be very careful with TV presenters and Journalists; they are very famous, but they may harm your brand.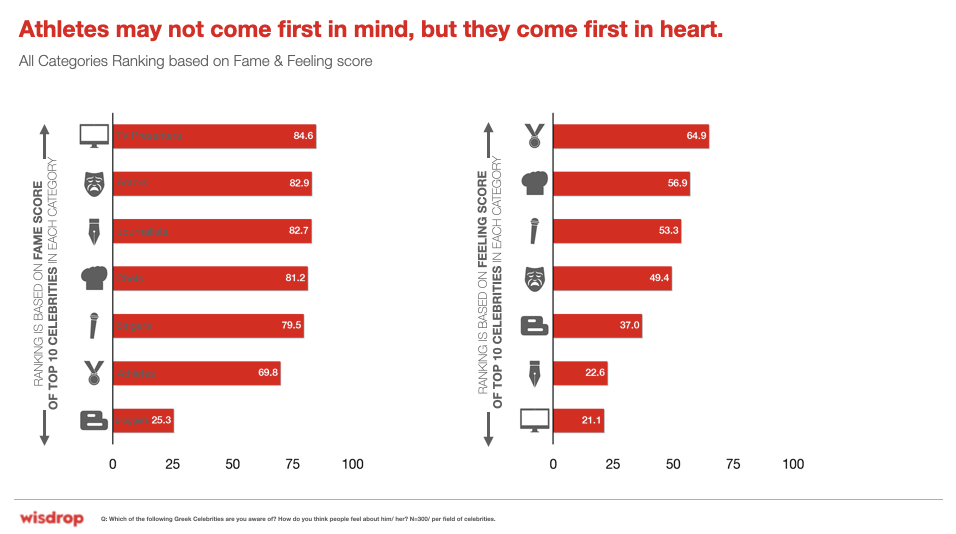 Apart from the specific set of the 137 celebrities we assessed, we also let respondents tell us what comes top of mind, when we say "celebrity in Greece". Top 10 includes 5 singers, 3 politicians, 1 TV presenter and 1 actress. We repeated the same question within each category, coming up with an interesting insight: there are some categories (ie. journalists or athletes) that no matter how famous you may be, people will not consider you as a celebrity (at least not top of mind). Which explains why interesting categories may stay out of marketers' scope as well.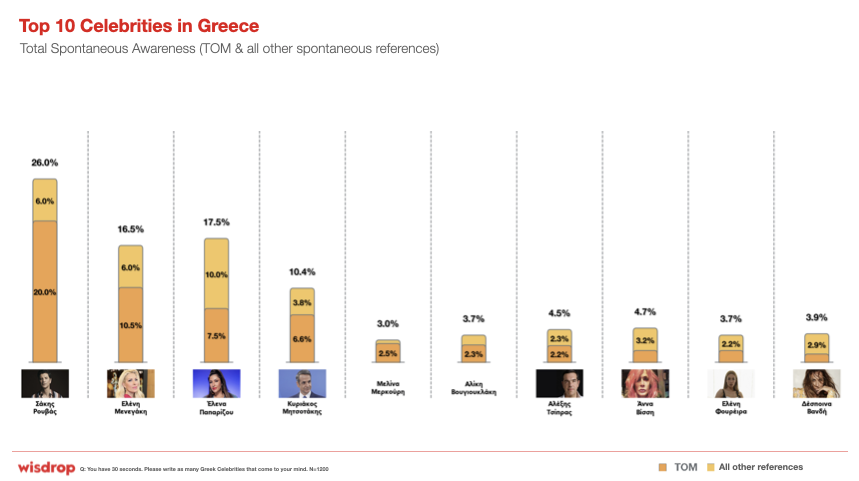 If you are interested in having the full list of the 137 celebrities we assessed along with a template of what we assesses, please contact us ([email protected]).
The same study is about to run in Poland in the next days. If you want to make sure that your existing our potential ambassador is included, let us know.