The latest Wisdrop Original study shows that despite the extremely difficult global circumstances with the pandemic and shut down of the economies worldwide, nearly half of the Poles feel happy with their current situation. What's more, they are also very optimistic about the future, which is particularly true for younger generations who do not worry about health issues that much.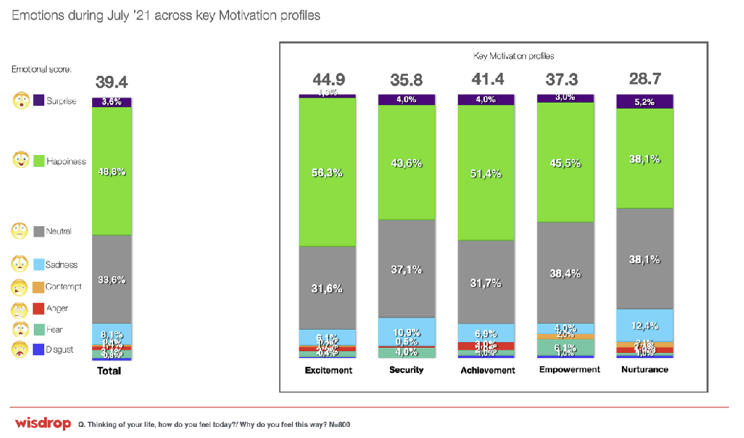 Close examination of different profiles shows that people driven by Excitement (29%) and Achievement (25%) feel even better. When asked how they were feeling 6 months ago, the emotional score was 21.1, which compared with current 39.4 leads us to conclusion that Poles believe the worst is over and life and business are ready to reactivate. Such a result is very significant for shaping brand communication and new product strategies.
The report also analyses basic concerns of people, along with current and planned spendings across 14 categories within the next 6 months. To learn more about the results and take a deep dive into charts and numbers from the report visit www.wisdrop.com and try one of available subscription plans. New subscribers can benefit from 30-days free trial.
A few words about Wisdrop
Wisdrop is a pioneering Braincandy subscription service that was developed in Greece in 2020 and expanded to Poland early this year. Wisdrop aims to change the way companies approach market research and help make better decisions and create better products and services. Through Wisdrop, even the smallest organisation can access rich and up-to-date market knowledge at any time, from a computer or tablet. The service already has more than 10 corresponding surveys available, while new surveys are added every week. For more information, visit www.wisdrop.com.